Dear Danielle,

I would like to express my gratitude to you and your very talented staff. Our homes would not be complete without the true craftsmanship of Creative Stairs. I feel the whole experience from beginning to end has been a professional, creative and long lasting one. Creative Stairs is always willing to go that extra step with the true artistic custom designs and sensational customer service. Creative Stairs can take any challenge and come up with the solution that fits our artistry elements of quality exclusive to our distinguished custom homes.

Thank you,

Tony Cesario, President
Cesario Builders, Inc.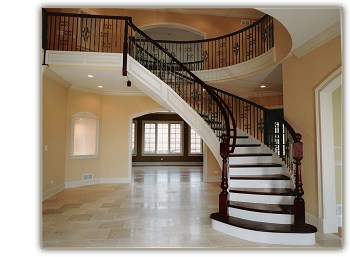 My name is Kelly Santeforte, and I am Vice-President of the Santeforte Real Estate Group. Our company builds custom homes in the towns of Oak Brook, Hinsdale, and Burr Ridge. We have worked with Creative Stairs for over 10 years and during that time they have brought a high level of quality to our custom homes with the beautiful staircase systems they produce. They are on the cutting edge of staircase manufacturing, and the final product really makes a statement to our buyers. Their customer service is excellent and they are very reliable. We would highly recommend them to anyone looking to have a one of a kind staircase in their home.



Dear Danielle,

Thanks again for another great job. The elliptical staircase and rail system for our recent Chicago Residence turned out to exceed everyone's expectations...the architect, interior designer and most importantly the owners. Your engineering, execution and installation were flawless.

Mike followed through with pricing that was on the mark and Scott's installation showed extreme attention to detail.

We know that it takes a team effort to produce this level of staircase, at an affordable price, with on time delivery. This is our way of saying, "KEEP UP THE GREAT WORK!"

We have three new homes going up in Glenview and another in Bannockburn - plans are on the way to you.

Please give our best to everyone.

Ronald A. Cohen
Total Concepts Plus - President




As a custom home builder, our reputation for detail and quality is very important to us, and Creative Stairs has meet our expectation for installing nothing but top shelf custom staircases in our homes for the past 15 years. From the start of the job until the end, Creative Stairs has an excellent eye for detail and has always done it's best to keep our schedule and get the job done in a timely fashion. We have no doubt that Creative Stairs is a notch about the rest and would highly recommend that you talk with them about your staircase needs.

Kenneth Wettour - President
Regal Development Corp. - Westmont, IL




Creative Stairs and Woodworking, Inc provides a quality product that we are proud to feature in our extraordinary homes. They offer a unique stair designed individually for each of our custom constructions, and we feel confident sending our customers to work one on one with their experienced sales staff who take their time and present many creative options to suit the desire of the homeowners and ourselves. We highly recommend them to any builder or home owner looking to put beautiful stairs in their home; we've done business with them for about ten years, and hope to continue business for many more.

Natu Patel (President)
Lina Builders, Inc.




Dear Danielle,

Just wanted to let you know how pleased we are with our new stairs! Our experience with your company has been very satisfying; from the time we came to the showroom to the completion of the project. As with any remodeling venture, we did have a few concerns as the installation was in progress. When the original plans called for challenging alterations, your staff was right there to help with finding the solution. We were extremely impressed with the high quality of work from your installer, Jerry. He was very meticulous and innovative with the finishing work.

The new stairway has made an outstanding improvement to our home! Thank you for all of your help, from the creative design to the final result. Taking into account all of our experiences with Creative Stairs, we would highly recommend your company.

Sincerely,
Walter and Cheryl M




We are happy to tell the public about our thirty-two year relationship with Creative Stairs. Creative Stairs provides a quality product that we are proud to showcase in our homes. The workmanship is consistently excellent and follow-up service is outstanding. Our working relationship with the fabricating staff is easy and professional. And, our customers tell us that they are comfortable and impressed with the competent sales staff. We know you will enjoy your experience working with Creative Stairs too.

Sincerely yours,

Robert M. Mikols
President - Mikols Construction, Inc.



back to the top